Get ready for an exciting voyage with Taffy the monkey and Taffy's Quest!
This time-limited event gives you the chance to win some incredible rewards by completing orders from a specific and exciting chain or multiple chains.
To set off on your journey and help Taffy on his adventure, you'll need Taffy's items, which you can snag through different ways in the game, such as:
Tapping on any Energy-consuming Producer

Bursting Bubbles
⭐ Special Producers:
Some campaigns will give you the opportunity to complete Orders for a chance to get a special Producer as a reward.
When you get the Producer, tap on it and merge the items you get to craft the special chain items Taffy requires.

Keep tapping on the Producer and combining the items until the Producer disappears.

Repeat steps 1 & 2 until Taffy has all the items he needs.
The event ends when time runs out 🕜 or when Taffy's Quest is completed.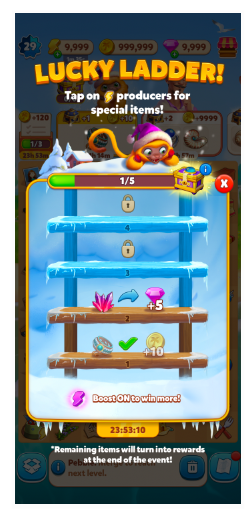 ✈️ Travel Tip: Use the Power Boost to get more advanced items to help you finish your orders quicker.🙌
We hope you especially enjoy this special chain of events!