Ready to start a new collection? Well, it's the perfect time to do so with our Seasonal Cards!
🍂 Collecting Seasonal Cards
You can find these items in various places along your journey, such as:
🏪Purchases
✨Mission Events
📅Daily Tasks
🏆Events
👆Energy-Consuming Producers
And remain on the lookout for other ways you can receive Card Packs. 🔎
Get enough Cards during the time-limited Season to complete Card Sets and earn amazing rewards, such as Jokers, Diamonds, and Chests.
🌟Card Rarity
There are five different types of Cards that you can find during your Travels, each one of them with a different rarity.
To check a Card's rarity, just take a look at the number of stars on it-- the higher the amount of stars, the more unique the Card. ⭐⭐⭐
Keep an eye on the Packs you receive! Each Pack will give you at least one card with the rarity pointed on the front of the Pack, and don't forget; you can always click on the 'i' next to the card pack for more information. 😉 The rarer the Card Set, the bigger the prize, so make sure to amass as many as you can before the Season comes to a close! 🕛
📔Seasonal Album
And if you're looking to take your town to the next level, keep finishing up those Card Sets to complete your Seasonal Album, which group your Card Sets together. Not only will you get some cool rewards for each Card Set you complete, but you'll get an amazing grand prize for finishing all the Card Sets to complete the Album. 🤗
But don't worry if you're not a pro yet - flip through your Album and click on the 'i' on the top left of each page to learn more:
On the main Album page, you can see which Sets are closest to completion, how many Cards are needed to finish each Set, as well as the sweet prize you'll get for completing the Album. Plus, there's a handy Progress Bar at the top so you can easily track how far you've come.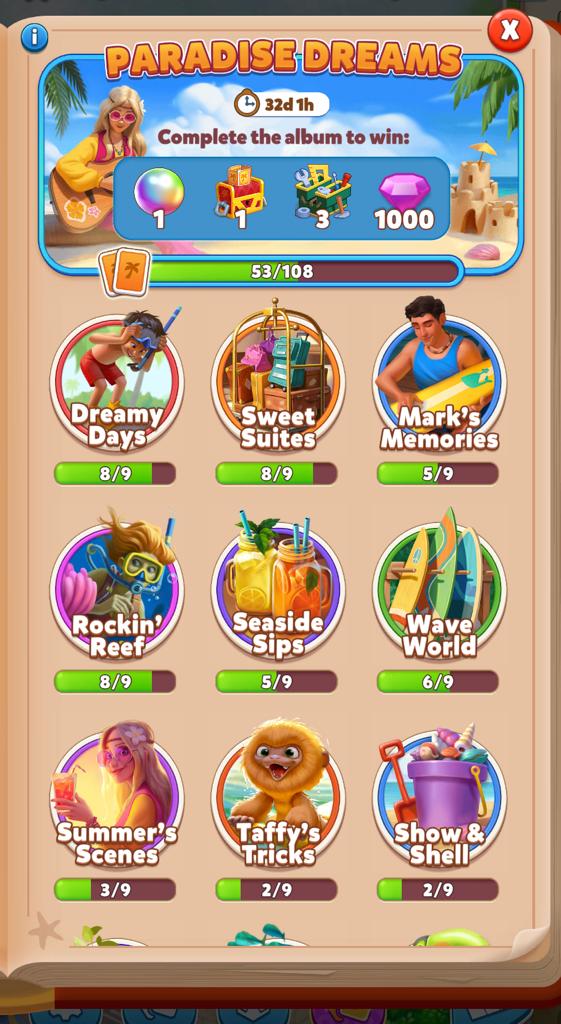 Click on a Card Set in the Album to reveal the great rewards that await you for completing the Set and to see which Cards you've already accumulated.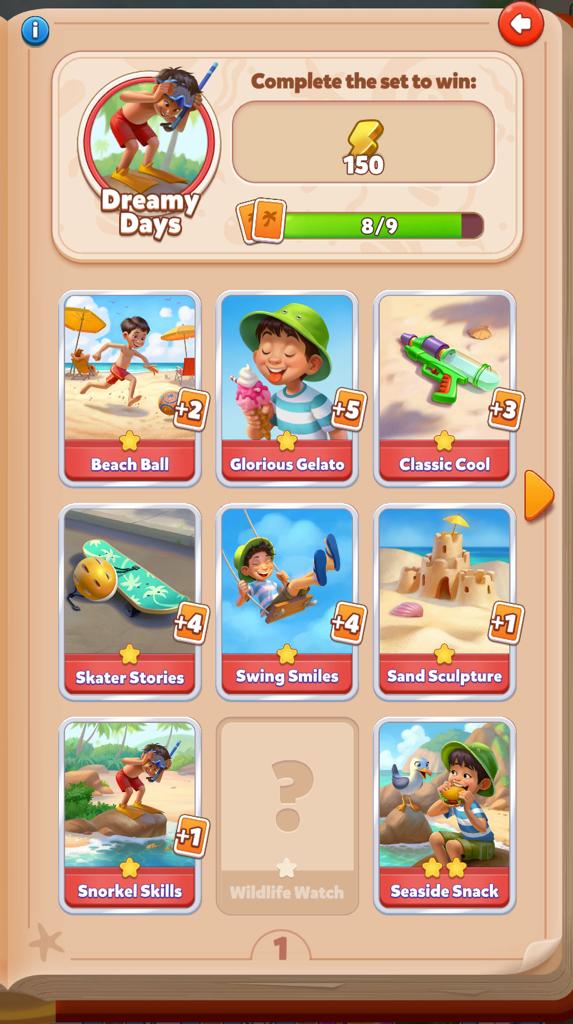 🃏 Joker Card
Use this special Card to help you complete your Seasonal Sets and claim those fantastic rewards even faster.
The Joker can transform into any Card that you're missing, filling the gaps in your Card Sets and bringing your town closer to greatness. Enjoy the power of the Joker. ✨
✈️ Travel Tip:
Keep an eye on your Rewards Queue - any card packs you win will be waiting for you at the beginning of your queue, so you can add them to your Card Sets immediately.
Now you're set...Get shuffling and get those Cards before the Season ends. Just remember that Seasons (and Albums) come and go, so make sure to take advantage while you can. ⏳